Can you Teach in California without a Credential?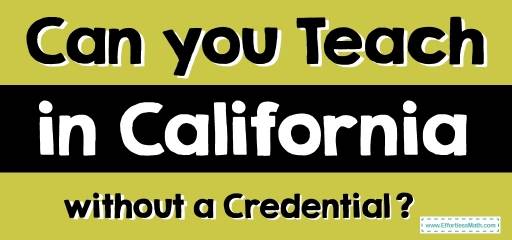 You may be wondering if you can teach in California without a teacher's degree or not. We answer this question in this post. So join us.
The basic qualification for alternate teacher certification is a bachelor's degree, preferably in a teachable subject. Those interested in teaching a particular subject must validate their knowledge of the subject. Verification of subject matter knowledge is done by passing the CSET test. Those interested in teaching in self-contained classrooms should also confirm content area knowledge by passing the appropriate CSET exams. The CSET exams are usually taken after completing the teacher preparation program, although some programs may require candidates to sit for exams before admission.
The Absolute Best Book to Ace the CBEST Math Test
Types of alternative teaching licenses in California
There are several different alternatives that a candidate can take to get certified in California. These include:
University intern or district intern credential
Internship programs let new teachers work in the classroom, gaining practical experience while completing coursework in the teacher preparation program. Whether working through a state-approved university or public school internship program, all applicants for the internship applicants must have already completed a bachelor's degree, passed the California Basic Skills Test, and met the need for fingerprinting and background clearance requirements. Candidates must also pass the appropriate subject assessments for the subject(s) to be taught, and complete an appropriate exam or course in the US Constitution.
Credentialing through private school experience
Not all private schools require teacher certification through the state. Those with at least three years of experience working in private school classrooms may apply for public school teacher credentialing with the state and have the student teaching is waived.
Credentialing through the Peace Corps
Applicants for the California Teacher Certificate who have served in the Peace Corps for at least 18 months may be eligible to teach. Candidates must have completed at least 50% of the Peace Corps experience in a classroom setting. As well as meet other eligibility requirements.
Sojourn certificate
Individuals who are academically eligible to teach a foreign language or culture after completing a college-level program in a foreign country may be eligible for the Sojourn Certificate.
In addition to meeting the education requirements, individuals must have taught in a foreign country in the past year, meet basic skills, receive a job offer from a California school district, and have a background check.
Looking for the best resources to help you or your student succeed on the CBEST test?
The Best Books to Ace the CBEST Test
Related to This Article