A Parents' Guide To Supporting Teens With Their Math Skills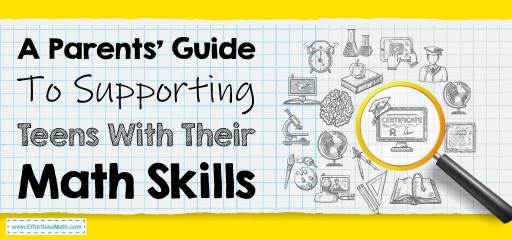 Is your older or teenage child moving into the next significant stage of their education? Are important exams beginning to loom on the horizon? As a parent, you'll no doubt be looking at ways to support them.
Are you worried about how to help them with math? This is a common anxiety.
Math is an important subject and the grades they receive are crucial for life beyond school. However, it may be a while since you studied math yourself. You may feel out of touch or not well placed to help them.
How can you prepare yourself to support your child? Here are some practical tips for parents of children who may be:
Approaching crucial exams like SATs or GCSEs
Struggling in math or one particular area of the subject
Gifted in the subject
Lack confidence in their abilities
This concise guide provided by teachers of mathematics in Dubai will help you understand:
The kind of math skills your child needs to develop to thrive as an adult in the 21st century
The math they may be examined on
How you can help them reach their goals
How will your kids be using math in the future?
Math in school isn't just preparation for exams, it's preparation for life, too.
Your child is going to need math for everyday life skills like timekeeping, money management, and financial planning. But math is also very likely to be needed for their career to some degree.
If your child is looking to enter a career in science, technology, and IT, then a high level of math understanding will be very important. College and university admissions panels will be insistent on good math grades for STEM pathways.
Maths underpins any subject that involves data analysis. Future engineers of any discipline will need geometry and calculus. Good grades in math will keep many career pathways open.
Your child's not so interested in a STEM career? Learning math also develops reasoning and logic, helping the next generation of problem solvers, no matter what field they'll work in.
Math learning in the 21st century
There are many ways that math teaching has stayed the same over decades, even centuries. Young kids have been learning multiplication tables forever. However, there have also been changes in the way math is used in everyday life thanks to technology.
Technology has impacted both what is taught and how it is taught. Few parents were practicing mental math with games on tablets or coding Lego robots in their school days.
We can also predict further shifts as the world moves increasingly towards artificial intelligence and automation. Advanced math skills are integral to working in these fields or any industry that uses this technology. Young people must be prepared for the demands of the future and excellent math skills will be more sought after than ever before.
Most young people won't be able to accurately predict what they'll be doing two decades from now; their future job may not have been invented yet. You can be sure, however, that problem-solving and critical thinking skills will be highly valued.
Good math educators know this. As a result, they are encouraging active learning over rote or passive learning. Today's students are investigating mathematical problems, using trial and error, making mistakes and learning from them, asking questions, and exploring possible answers.
What math is my child covering in school?
All major internationally renowned curriculums will ensure children leave school being able to apply problem-solving skills, logic, and reasoning and with a good grasp of the language of mathematics.
The four key areas of the curriculum are:
Numbers
Algebra
Geometry and trigonometry
Statistics and probability
As they approach the end of their school career, they will begin preparing for math examinations such as GCSE/IGCSE, A-level, IB, SAT, ACT, PSAT, or many others. These have a specific syllabus that details what students will be examined on and your child's teachers will plan their lessons accordingly.
Barriers to math learning
Many children enjoy math and excel at the subject through school. Sadly, others get along less well with the subject through no fault of their own. Why might this be?
Enjoyment can be a key issue. Sometimes the current math teaching or learning environment does not suit a particular child. Sometimes a negative experience from the past can haunt a child for years. One bad experience can sometimes cause children to develop a fear of math or to lose all confidence in learning it.
Language and communication skills are as vital to math as any other subject. Reading, writing, or listening difficulties will have an impact on their math learning, too. There are specific learning difficulties that will impact a child's math skills, including dyslexia and dyspraxia.
Dyscalculia is a difficulty that affects a student's ability to understand numerical concepts ("number sense") and memorize number facts. If you suspect a learning difficulty may be impacting your child's education, then be sure to talk to your child's teachers.
Read on for more tips to help your child.
The best ways to support a child's math learning
There are many ways parents can support math learning.
The most important advice would be to stay up-to-date: make sure you know what they are covering in school so you can look out for opportunities for them to explore the topic further or apply their learning to real-life situations.
You can also:
Involve them in the everyday math you do, such as budgeting and time planning.
Better still, encourage independence and nurture life skills by assigning them responsibility for a few everyday tasks that involve math.
Ensure they have access to the right equipment for math lessons.
Encourage them to prepare a study timetable for homework and exam revision.
Suggest fun number puzzles as well as games that help develop logic and reasoning. Chess and sudoku are two ideas.
Keep lines of communication open with teachers and raise concerns when necessary.
Consider providing extra tuition.
Why you might consider extra tuition in math
Math classes for kids can help children with all levels of mathematical ability. Through specialized teaching, the classes will help your child:
Overcome difficulties with a certain topic or the subject in general.
Extend their knowledge in areas of interest or talent.
Prepare for examinations or competitions.
Build confidence.
Grow a lifelong appreciation for the subject.
Supporting your child with their math education is an important way to help them prepare for adulthood, their everyday life, and their future career. Do this by providing them with lots of encouragement and specialist support when it is needed.
AUTHOR BIO
Maloy Burman is the Chief Executive Officer and Managing Director of Premier Genie FZ LLC. He is responsible for driving Premier Genie into a leadership position in the STEM (Science, Technology, Engineering, and Mathematics) Education space in Asia, the Middle East, and Africa and building a solid brand value. Premier Genie is currently running 5 centers in Dubai and 5 centers in India with a goal to multiply that over the next 5 years.
Related to This Article