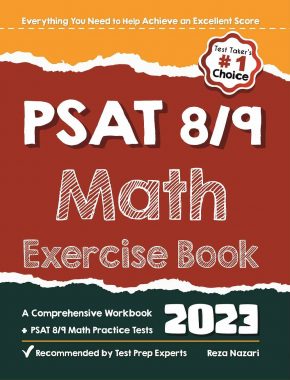 PSAT 8/9 Math Exercise Book
A Comprehensive Workbook + PSAT 8/9 Math Practice Tests

A Perfect PSAT 8/9 Math Practice Book!
The ultimate guide for students of grades 8 and 9, PSAT 8/9 Math Exercise Book will guide you through the most efficient methods and the most effective strategies to prepare for the PSAT Math Test!
This up-to-date guide, which reflects the new 2022 test guidelines, will have you on track to ace the PSAT Math test. It has all of your answers and guarantees success! Are you ready for this challenge?
+1K Downloads
Teacher's Choice
100% Guaranteed
Secure Checkout
Lifetime Support
After finishing the workbook, students will get a solid background as well as enough practice which is needed for acing PSAT 8/9 Math exam.
With this comprehensive exercise book, students will learn math from various lessons. Online study guides are provided for each math topic, the ideas are explained and retained once the lesson has been completed.
This comprehensive exercise book is perfect for those who want to review their math skills before the PSAT 8/9 Math test. The workbook does not only cover all of the content from the exam but also features additional practice questions in both multiple-choice and grid-in formats with answers grouped by category. These two full-length tests include comprehensive answer explanations so you know exactly how to tackle each problem type as well!
There are many reasons why more and more PSAT teachers and test-takers turn to PSAT Math Book:
Content 100% aligned with the 2023 PSAT test

Written by a Test Expert and PSAT Math Tutor

Complete coverage of all concepts from the 2022 PSAT test, including all skills and topics.

Over 2,500 additional PSAT 8/9 math practice questions that focus on each topic (so you can concentrate on your weak areas).

2 full-length PSAT Math practice tests

 with detailed answers

And much more!
The only book you'll ever need to master PSAT 8/9 Math concepts and ace the PSAT Math test is this self-study guide.
Ideal for self-study and classroom usage!
Effortless Math: We Help Students Learn to LOVE Mathematics - © 2023