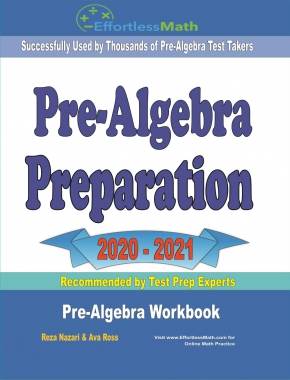 Pre-Algebra Preparation 2020 – 2021
Pre-Algebra Workbook

The BEST prep book to help you ACE the Pre-Algebra!
Pre-Algebra Preparation 2020 – 2021 is created by top Math instructors to help test takers succeed on the Pre-Algebra course. This Pre-Algebra prep new edition has been updated to replicate questions appearing on the most recent Pre-Algebra courses. Upon completion of this comprehensive Pre-Algebra prep book, you will have a solid foundation and sufficient practice to ace the Pre-Algebra test. This prep book is your ticket to scoring higher on the Pre-Algebra test.

+1K Downloads
Teacher's Choice
100% Guaranteed
Secure Checkout
Lifetime Support
Pre-Algebra Preparation 2020 – 2021 is a comprehensive prep book for the Pre-Algebra. It contains many exciting and unique features to help you improve your test scores, including:
Content 100% aligned with the 2020 Pre-Algebra test
Complete coverage of all Pre-Algebra concepts and topics which you will be tested
Numerous Pre-Algebra practice questions in both multiple-choice and grid-in formats with answers grouped by topic, so you can focus on your weak areas
Abundant Math skill-building exercises to help test-takers approach different question types that might be unfamiliar to them
This Pre-Algebra prep book and other Effortless Math Education books are used by thousands of students each year to help them review core content areas, brush-up in math, discover their strengths and weaknesses, and achieve their best scores on the Pre-Algebra test.
Effortless Math: We Help Students Learn to LOVE Mathematics - © 2023