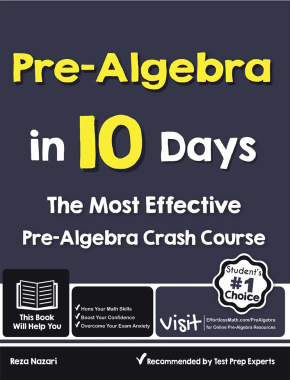 Pre-Algebra in 10 Days
The Most Effective Pre-Algebra Crash Course

"Pre-Algebra in 10 Days" is a dynamic, focused guide designed for rapid mastery of pre-algebra fundamentals. This book is the perfect tool for students preparing for a new school year, upcoming standardized tests, or anyone seeking a quick refresh of their mathematical skills. Its streamlined approach is aimed at maximizing study efficiency and making the most out of a short time frame.

+1K Downloads
Teacher's Choice
100% Guaranteed
Secure Checkout
Lifetime Support
Key Features of the Book:
Concise Lessons: The course is divided into ten focused lessons, each dedicated to a specific pre-algebra topic. These lessons are structured to be brief yet thorough, ensuring a clear understanding of essential concepts without overwhelming the learner.
Daily Objectives: Each day comes with clearly defined learning objectives, providing a sense of direction and achievement. This feature helps students track their progress and stay motivated throughout the course.
Real-World Applications: To underscore the practicality of pre-algebra, the lessons incorporate real-world scenarios. This approach demonstrates how pre-algebra is not only a theoretical subject but also a vital tool for everyday problem-solving.
Progressive Structure: The course is meticulously designed to build upon the knowledge acquired in previous lessons. This cumulative approach ensures a cohesive and integrated learning experience, solidifying the student's understanding as they progress.
Practice Problems: At the conclusion of each lesson, students are presented with practice problems to consolidate their understanding and retention of the day's material. These exercises are critical for reinforcing the concepts and objectives covered.
Comprehensive Answer Key: A detailed answer key is provided for all practice problems, enabling students to self-assess and pinpoint areas needing more focus.
Online Enhancement: Purchasers gain access to an exclusive online platform that complements the book's content. This platform includes additional exercises, video explanations, and interactive modules, providing a richer and more comprehensive learning experience.
10-Day Plan: The book is intentionally structured to facilitate significant progress within a short span, making it ideal for learners with tight schedules.
"Pre-Algebra in 10 Days" is more than a mere study aid; it's a compact, effective route to gaining a strong mathematical foundation. It challenges students to engage fully in a ten-day journey, promising a significant enhancement of their pre-algebra skills. By the end of this course, learners will not only have a better grasp of pre-algebra but also an increased confidence in their mathematical abilities.
Effortless Math: We Help Students Learn to LOVE Mathematics - © 2023