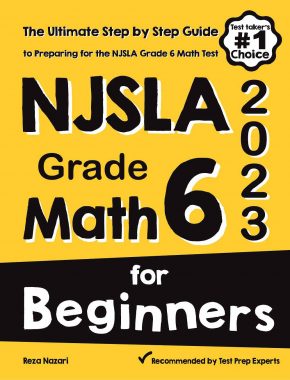 NJSLA Grade 6 Math for Beginners
The Ultimate Step by Step Guide to Preparing for the NJSLA Math Test

The Most Effective NJSLA Math Strategies Ever Published!
All the Tools Your Student Needs to Succeed on the NJSLA Math test 2023!
The NJSLA Grade 6 Math for Beginners is a comprehensive study resource that includes guides, examples, and practice exercises with answers for all topics covered on the NJSLA grade 6 math exam.

+1K Downloads
Teacher's Choice
100% Guaranteed
Secure Checkout
Lifetime Support
The newly updated version of NJSLA Grade 6 Math for Beginners 2023:
Provides students with a step-by-step guide to mastering the best strategies for achieving success on the NJSLA math test
Includes comprehensive explanations for each math subject and a variety of practice tests, including fill-in-the-blank, free-response, and multiple-choice questions
Covers all NJSLA math topics that will appear on the 2023 test, setting it apart from other study resources
Offers extensive practice tests to help your student become familiar with various question types
Provides detailed explanations for each question to ensure they know how to solve them
Makes studying math easier with its in-depth explanations and comprehensive study guide
Is the ideal resource for both self-study and classroom use.
Effortless Math: We Help Students Learn to LOVE Mathematics - © 2023