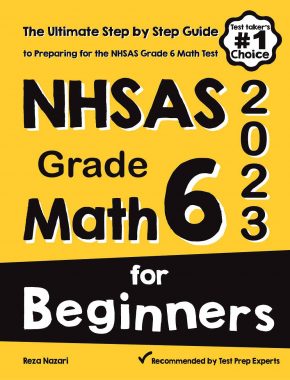 NHSAS Grade 6 Math for Beginners
The Ultimate Step by Step Guide to Preparing for the NHSAS Math Test

Ace the NHSAS Grade 6 Math Test: The Ultimate Guide to Success in 2023!
Unleash Your Student's Full Potential on the 2023 NHSAS Math Test!

+1K Downloads
Teacher's Choice
100% Guaranteed
Secure Checkout
Lifetime Support
Equip your student for success on the New Hampshire Statewide Assessment System (NHSAS) Grade 6 Math Test with the ultimate study guide: NHSAS Grade 6 Math for Beginners!
This comprehensive resource is designed to provide all the essential resources needed to excel on this crucial exam and unleash your student's full potential.
Noteworthy features of the book include:
• Comprehensive coverage of all math topics presented on the 2023 NHSAS test, ensuring that students are thoroughly prepared to tackle any math question they might encounter.
• An all-inclusive set of study guides, explanations, examples, and exercises for every subject on the NHSAS Grade 6 Math Test, making it a complete resource for students.
• Detailed, step-by-step guidance on the most efficient strategies for success, equipping students with the skills and confidence needed to excel on test day.
• A vast array of practice tests in diverse formats, including free response and multiple-choice questions, as well as two authentic, full-length practice tests accompanied by detailed answers to track progress and assess understanding.
• Comprehensive explanations and techniques for addressing each question, ensuring that students develop a deep comprehension of mathematical concepts.
NHSAS Grade 6 Math for Beginners! is a top-tier guide for students preparing for the NHSAS Math Test. Suitable for both self-study and classroom use, this book is an invaluable resource for helping students master mathematical concepts and bolster their confidence in their abilities.
Effortless Math: We Help Students Learn to LOVE Mathematics - © 2023