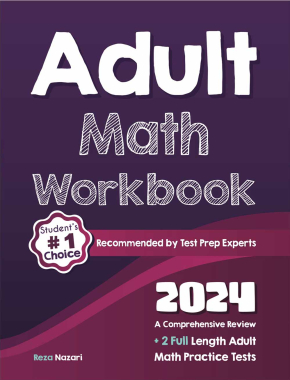 Adult Math Workbook
A Comprehensive Review + 2 Full Length Adult Math Practice Tests

"Adult Math Workbook: A Comprehensive Guide with Online Support"
The "Adult Math Workbook" stands as a beacon of knowledge for adult learners who are either stepping into the world of mathematics for the first time or revisiting the subject to refresh their skills. This resource is not just a workbook; it's a comprehensive guide paired with a cutting-edge online course, meticulously designed to parallel and enhance each mathematical topic presented within its pages.

+1K Downloads
Teacher's Choice
100% Guaranteed
Secure Checkout
Lifetime Support
What Sets This Workbook Apart:
QR Codes & Direct Links: At the forefront of each chapter, learners will discover a QR code and a direct link. These innovative features act as gateways to an online learning platform, offering detailed, topic-specific lessons. Whether you prefer scanning the QR code or clicking the link, you'll find yourself immersed in a well-structured lesson that complements the workbook content.
Integrated Online Resources: The workbook transcends the traditional boundaries of printed materials by offering an engaging online experience. This integration includes comprehensive examples that demystify complex concepts, step-by-step video tutorials guiding learners through each mathematical process, and interactive exercises designed to solidify understanding and gauge progress.
Practice Makes Perfect: To cement the knowledge gained, the workbook is filled with diverse exercises. These range from fundamental drills that build basic skills to more challenging problems that apply math concepts to real-world scenarios. The workbook is complemented by detailed solutions, allowing learners to check their work and confirm their understanding.
Printable Worksheets: For those who crave additional practice, the online lessons come with a bonus feature: printable worksheets. These worksheets are crafted to reinforce the concepts covered and provide further opportunities to apply and master the material, enriching the overall learning experience.
The "Adult Math Workbook," with its comprehensive online support, is more than just a study aid. It's a key to unlocking the mathematical potential of adult learners. Whether your goal is to progress in your career, assist your children with their math homework, or simply engage in intellectual growth, this workbook is an invaluable resource. It offers a unique blend of print and digital content, tailored to accommodate the learning styles and needs of adults, making the journey into mathematics both accessible and enjoyable.
Effortless Math: We Help Students Learn to LOVE Mathematics - © 2023